Have you ever noticed that, no matter how great your product is, the harder you try to sell it, the harder it becomes to make the sale? It might actually seem worse to list benefits, guarantees, facts, or testimonials because as soon as your prospect thinks he's being "sold to," his natural tendency is to resist. It's just human nature for people to want to make their own decisions in life.

So what drives us to buy the things that we do buy? Believe it or not, it's all in the story. According to the author of Effortless Influence, Daniel Levis, every pivotal purchase we've ever made in life was done because of a story we bought into or that we told to ourselves. For example, if we subconsciously believe that owning Brand X means we'll have more friends and fun, or that we'll be more attractive, or safer, have healthier children, or be a leader… we'll likely break out our wallets to buy Brand X, time and time again.

The point is – stories sell, and we never tire of hearing them. So in this one-hour webinar, you'll hear how to know what kind of stories your prospects subconsciously want to hear, and how to apply those stories to your marketing campaigns.

You'll Also Hear . . .

• The exact story template Hollywood uses to suck us into movie plots – and how to tweak this "hero's journey" when assembling your next sales drama

• Exactly why people resist traditional "sales pitches" and the best way to neutralize those fears

• The greatest human desire – and how to make sure you're using that desire in your storytelling

• How to write a story with a sales pitch that rides subliminally

• A word-for-word way to show off your credibility without coming across as a braggart

• The very first thing Daniel does when he's hired as a copywriter

• The real truth about stories – do they actually have to be true in order to use them in marketing? And if not, when and how should you dance around that ethical line?

• The vital importance of getting your prospects to arrive at the conclusion themselves that they need your product – and sneaky psychological strategies that do that

• The art of being artfully vague – how to leave enough room in your sales copy and descriptions for prospects to put themselves into the story

• The 5 approaches to maximizing your creativity and storytelling ability

• The one and only goal of all selling, and the lesson about storytelling you can take from Nike

Let's face it, we live in a world where consumers don't need 99% of the stuff that's out there, so just listing facts and benefits isn't going to sway too many people. The fastest and most effective way to bond you to your prospects in this economy is by telling them a story they can relate to and buy into. And in this webinar, you'll learn exactly how to do that. But for more information about Daniel Levis and storytelling, go to www.DanielLevisInterview.com
Click the play video button to start the webinar. Or you can listen to the play audio only or download the mp3 file below.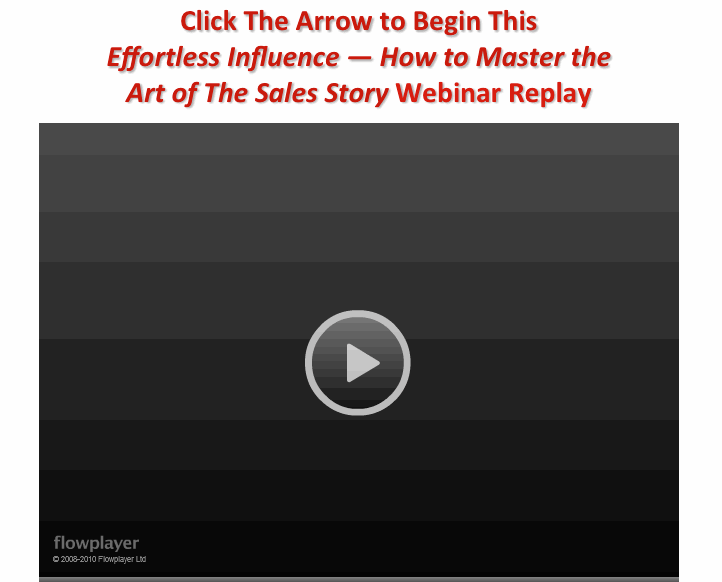 Chick here for the sales letter.
You can download or play the audio only of this webinar from the links below.