Blessed With Oranges . . .
By senoff.michael@gmail.com On January 21, 2017
Under Uncategorized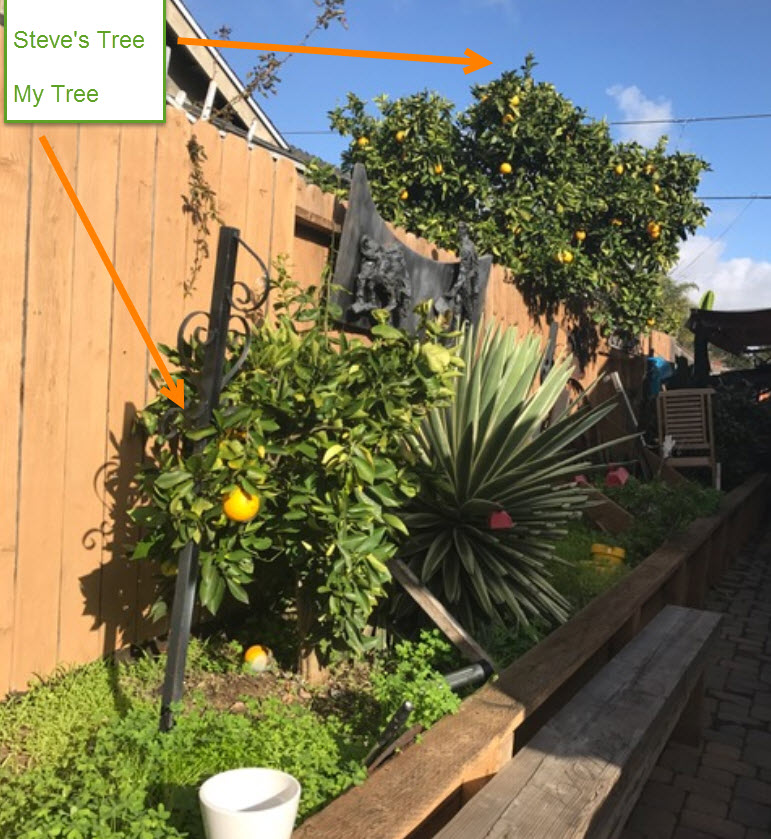 Behind my blue Kamado grill was a scraggly little orange tree.
I can still remember the day that I bought my orange tree from Armstrong's Garden Center on West Morena Blvd. next to the Toys R Us.
Toys R Us was my two son's favorite toy store.
I planted it in the north garden with three other fruit trees on the side of our home.
JonLuca and his brother were here.
It was a hot San Diego summer day and all the boys were soaking in the hot tub.
Steve, my neighbor told me exactly what kind of tree to get.
He had a huge orange tree.
His tree flopped over our slat wood fence and dropped oranges all over and into our garden.
It gifted hundreds of juicy tart oranges each Summer.
And he had a lemon tree just as big.
And I wanted trees just like Steve's trees.
It's been eight years since I planted my orange tree.
I used the best topsoil money could buy.
I used the right fertilizer.
I used bags of Garden Safe ready-to-use slug and snail bait to protect my tree.
I watered my orange tree too whenever I had a chance.
When I planted my orange tree, I was hoping I would have oranges like Steve's tree the next summer.
And each summer after that, no oranges.
"Bare me some fruit you orange tree." I would say.
And six more summers passed.
And there were no oranges.
And my tree was tiny.
I would curse my orange tree every time I would cook out on my Blue Kamado grill.
Until now!
Finally, my little orange tree made five beautiful oranges.
Each orange more beautiful than the next.
I'm going use these oranges in a BBQ chicken marinade this weekend.
And I wish this for you in your business.
Whatever you do.
A business idea, marketing or a product can be like my little old scraggly orange tree.
But if you keep at it, before you know it's you'll be blessed with some oranges too.
And then you can eat those oranges.
On your chicken
Or your steak
Or you can squeeze them in a tall glass of vodka and make a screwdriver.
May your weekend be blessed with oranges.
Each one more beautiful than the next.
About the Author
Michael Senoff
I've spent the last five years of my life creating fascinating streaming audio interviews with big name marketers and getting them to spill the beans on how they got rich and famous.
And I'm giving most of my life's work away free.
These interviews below are designed to be superior to any lecture out there.
They're more informative, natural, and the information is more dynamic and dense.
The sheer scope of marketing and business growth information below is mind blowing.
Start clicking and get ready to discover this amazing gold mine!
Michael Senoff is the CEO and publisher of http://www.hardtofindseminars.com and http://www.myfirsthmaclient.com
The world's leading free digital consulting audio business library.