Peer Reviews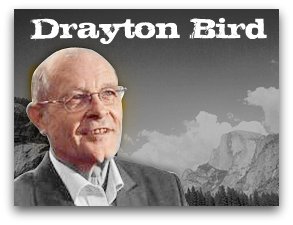 "There Are Just a Few Writers Whose Skills I Envy. Michael Senoff Is One."
Nobody has better mastered the art of telling stories – seemingly artless stories – that lure you and beguile you so effectively that you hardly realize you're being persuaded  – until it's too late.
Drayton Bird
"Drayton Bird knows more about direct marketing than anyone in the world.
His book about it is pure gold.
His speeches are not only informative, but hilariously funny."
David Ogilvy, Founder Ogilvy & Mather
_______________________________________________________
HardToFindSeminars.com Is One Of The Gems Of The Internet.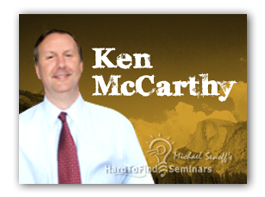 Michael Senoff is a great interviewer, a masterful marketer in his own right and knows how to dig deep to get to the good stuff. If you want to supercharge your own marketing brain, load up on this amazing free site.
Ken McCarthy
Founder, The System Seminar
________________________________________________________
The Smartest Person I know.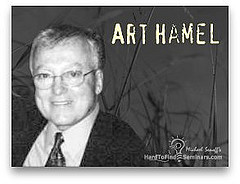 My name is Art Hamel and Michael refers to me "AS THE MOST FAMOUS PERSON THAT NO ONE KNOWS".
Michael has kept my name before the Merger and Acquisition Community "INTERNATIONALLY" for the past 20 years. Thanks to Michael I am on the telephone with people from all parts of the world almost every day. I am assisting them while they buy a business in their country.
We started buying businesses with profits of over $1,000,000 35+ years ago. The business did not take off until Michael got involved.
Today all of our deals internationally are for business purchases making over $1,000,000/ year.
We have had the pleasure of working with Michael Senoff for 7 years. In my 53+ years in business, he is the most honest, capable businessman that I've ever worked with.
He's one in a million.
We had taught many thousands of people in our seminars over a 15 years period and sold many thousands of our Business Opportunity Cassette Programs.
We were phasing out and selling the last of our business buying programs because we figured it was all over.
Then, Michael Senoff came along, beefed up the program and converted it to a CD program.
He added a web site and the rest is history.
Michael continued to build the program up for the past 7 years.
Michael is a genius and very humble about his great talent.
Michael, you are the greatest and smartest person I know.
Art B. Hamel
Business Buying Expert
________________________________________________________
I Absolutely Hate Michael Senoff And His Seminar" Program!
Why? Read on!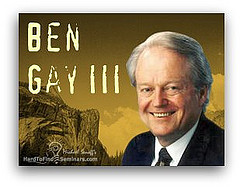 First, because Michael and his "Hard to Find Seminars" program gives away so much of the content for which those of us in the Professional Sales Training/Speaking/Seminar/Consulting/Coaching/Script Writing businesses charge big bucks. That's why!
And not only that, Michael is so persuasive that he even talked me into giving away some of my most valuable stuff for free, too! Damn Michael! Damn him!
Why would I, wily old Ben Gay III, fall victim to that?
Because Michael's so good at interviewing folks that I found myself coughing up stuff I never give away for free! In fact, if you listen to the sessions I did with him, you'll be absolutely astounded to hear exactly what I revealed!
Except in high-priced, private, closed seminars with close friends/clients, I've never done it before! Never.
Anyway, you've been warned!
Be interviewed by Michael Senoff at your financial risk!
But listen to his many interviews as your path to riches!
All the best!
Ben Gay III
The Closers
Don't forget to sign up for my daily e-let so you'll have access to all of my most recent interviews as they become available.
________________________________________________________
Politely Relentless — You Left No Stone Unturned.
Hey Michael,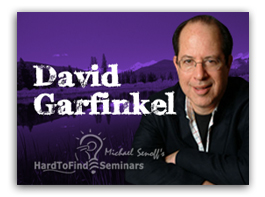 I want to thank you again for doing a great interview with me.
"Above and beyond the call of duty," "taking the patient, thorough approach of a master who appreciates excellence," and "originality in light of the real needs and interests of the end user — the person who will ultimately listen to the interview," are all phrases that come to mind.
As you know, I've worked as a journalist on and off for 41 years. I have top experts in their fields, who are very good at asking questions, telling ME that I'm able to pull stuff out of them that nobody else has been able to. Something they never thought they'd ever be able to find in an interviewer outside of themselves.
I'm not so sure that my confidence in my abilities focus on how uniquely skilled an interviewer I am, but I know I'm good at it. And frankly, no one has ever been able to pull stuff out of ME the way you did.
In fact, if you check my blog, you'll see that I jokingly referred to you as an Andy Sipowicz (of NYPD Blue fame) — but without the violence or the rudeness!
Meaning, that you were politely relentless — you left no stone unturned.
You have great skill and really put your heart into what you do. If ever you have someone who'd like to get a reference on whether being interviewed by you is time well spent, send 'em my way. I'll convince them that the process by itself is more than worth the time.
And the fine product you painstakingly put together afterwards — the finished interview itself — is just gravy.
(Extremely valuable gravy, nonetheless!)
So thanks again, Michael. I learned a lot about myself in the process of reaching for answers to your questions.
And I learned some new, positive things about interviewing others, too.
David Garfinkel
________________________________________________________
Nothing Short Of A Golden Lead Generation Asset.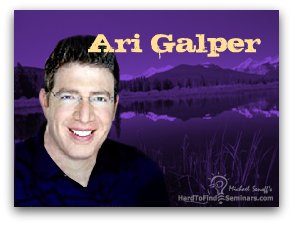 The interview I did with Michael has been nothing short of a golden lead generation asset. He is such a talented interviewer and they way he pulls it together is like hiring a top-level production house to create a great product that never stops selling.
So many of our customers tell us that the interview I did with Michael was the spark that caused them to click our order button and join our program.
Ari Galper
Founder, Unlock The Game
_______________________________________________________
Very Qualified And Educated Leads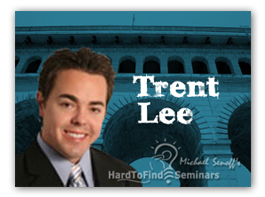 I've known Michael for 3 years, we did an interview back then and that one single interview continues to bring in qualified leads month in and month out.
It still amazing me that the interview that we did that long ago, although still very accurate an relevant content, continue to provide very qualified and educated leads for me every single month.
Trent Lee
Tax Reduction Expert
________________________________________________________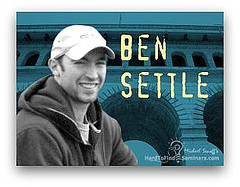 I learned almost everything I know about creating and selling high ticket products using simple audio interviews from Michael Senoff.
His help and advice have been invaluable over the years.
Ben Settle
Copywriter
________________________________________________________
His database marketing tactics are effective to  generating new business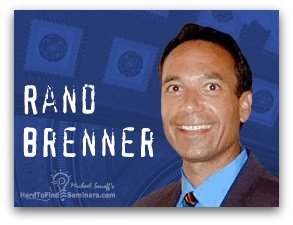 Michael is one of the most professional and innovative marketers I have worked with.
He's attention to detail and ability to ask the right questions has created some of the best teaching audio products.
These have been great tools that customers have successfully used to license their intellectual properties.
Through our marketing partnership, Michael has helped me to expand my customer base and develop new clients.
His database marketing tactics are effective to generating new business. I highly recommend Michael to anyone seeking an online marketing partner.
Rand Brenner
CEO of Licensing Consulting Group
Don't forget to sign up for my daily e-let so you'll have access to all of my most recent interviews as they become available.