$3900 ID Pen Business System $997

Sensible Pricing

We have a simple one time $997 fee. Easy to afford, no per-month charges, no extra costs, no nickel-and-diming or download fees. So, order now! It won't cost any extra.

I Repeat -- $997 is all you pay. There is nothing more to buy and no monthly fees of any kind.

HERE'S WHAT YOU GET . . .


1. Invisible Ink Marketing System - 16 Secrets To Get You More Customers In A Month Than You Currently Get All Year

173-page PDF Document

For the full description of this section click here.


---


2. Your Question-And-Answer Guide To Making Money At Home With Your Own Specialty Pen Business

96-minute audio and accompanying 31-page PDF Transcript

For the full description of this section click here.


---


3. Question and Answer Session With Mr. Scott Nickerson

14-minute audio and accompanying 9-page PDF Transcript

For the full description of this section click here.


---


4. Your Step-By-Step Training Module For Making Money In The Pen Business

74-minute audio

For the full description of this section click here.

---


5. Like It Or Not… Your Pen Business Is Going To Grow Without You Even Trying Coaching Call With Gene Parker


29-minute audio and accompanying 14-page PDF Transcript

For the full description of this section click here.


---


6. The ID Pen Rolodex Master - Resources to Operate Your ID Pen Business

17-Page PDF Document

For the full description of this section click here.


---

7. ID Pen Letters and Mailings Swipe File Master

63-Page PDF Document

For the full description of this section click here.


---

8. ID Pen Artwork and Letter Swipe File

32-Page PDF Document

For the full description of this section click here.


---

HERE'S WHAT THE ID PEN BUSINESS SYSTEM WILL DO FOR YOU

For the last 14 years I've been quietly making and selling pens from my home making $1000s per year. All in all, I've made and sold over a half a million pens. No expensive machinery needed. And the profit margins are huge. I can make a pen for $17 cents and sell it retail for $5 or 10x my money selling wholesale by the 100s.

I've got accounts that have been ordering id pens pens form me for 14 years. But I only sold them once. And I'll reveal everything I know about this pen business to you for only $997.

I still remember the day when my sister with a condescending voice and a sneered lip said . . . "How are you going to make any money in the pen business?

And now you can learn my all my secrets from my little pen business for only one $997.00 payment and without any ongoing payments.





HERE'S HOW TO ORDER

Don't delay, this price is for a limited time only! Your ID Pen Business System will be sent instantly after your order is placed.

Click the Yellow Buy Now Button Below

note: It may take a second or two for the order window to open up. Be patient

Don't have a credit card? no problem click here

I Repeat -- $997 is all you pay. There is nothing more to buy and no monthly fees of any kind.

The second I get your order I'll e-mail your download link where you can download everything. Note after you make your Paypal payment, Paypal will have a yellow button that says "Go Back To JS&M Sales & Marketing.

Click on that yellow button and that will take you to the downloads. If you have any questions at all, feel free to call me at 858-692-9461.

One more thing. If you are on your cell phone or away from internet access and can't use Paypal now, you can send me your Paypal e-mail address and a short note that you want the ID Pen Business System for $997.

I'll then send you an e-mail back with a Paypal invoice and when you get back in front of your computer, you can pay. But you must do it now because this offer and page will not be here too much longer. e-mail michael@michaelsenoff.com to let me know your Paypal e-mail and I'll send you the invoice.

If you don't have a credit card, you CAN send a money order or check to:

Attn: Michael Senoff
JS&M Sales & Marketing Inc.
4978 Gaylord Drive
San Diego, CA 92117

Just make sure you write your e-mail on the check and I'll send you the link once I get it. E-mail me too so I know to look out for it.

If you have any questions at all, call me at 858-692-9461.

Sincerely,





Michael Senoff




T

ime is short, order now before this offer ends.

HERE'S HOW TO ORDER

Don't delay, this price is for a limited time only! Your ID Pen Business System will be sent instantly after your order is placed.

Click the Yellow Buy Now Button Below
note: It may take a second or two for the order window to open up. Be patient

Don't have a credit card? no problem click here
I Repeat -- $997 is all you pay. There is nothing more to buy and no monthly fees of any kind.

ID Pen Business System Descriptions Below:
The ID Pen Business System Product includes everything below. And there is NOTHING more to buy and no monthly payment. You get all of this for $997.


1) Invisible Ink Marketing System - 16 Secrets To Get You More Customers In A Month Than You Currently Get All Year
An 173-Page PDF Document That Includes:
* 3 Certificates Worth $200 EACH to have your questions about the ID Pen System Product Answered

* 8 Certificates Worth $200 EACH to have your own ID Pen Marketing Material Critiqued

* SECTION 1 - Why 99% Of Most Advertising & Marketing Doesn't Work...And What Does Work! - 9 pages

* Section 2 - The Lifetime Value Of A Customer - Your "Marketing Edge" - 5 pages

* Section 3 - The Master Success Formula How To Grow Your Pen Business Exponentially - 4 pages

* Section 4 - Your Marketing Message" The Unique Selling Proposition - 7 pages

* Section 5 - Your Plan of Action - 4 pages

* Section 6 - DIRECT MARKETING Secrets
* Secret #1 - Create A Cash Flow Surge With Customer Reactivation - 7 pages

* Secret #2 - How To Use Two-Step Classified & Small Display Ads - 10 pages

* Secret #3 - How To Make A Fortune With Free Recorded Messages - 6 pages

* Secret #4 - How To Use FREE Reports To Get Prospects Calling You! - 30 pages

* Secret #5 - The Little Known Secret Of The Direct Marketing Masters - The Multi-Step Follow Up Sequence - 14 pages

* Secret #6 - How To Use Attention "Grabbers" To Make Your Letters Virtually Jump Out And Grab Your Prospect's Attention - 3 pages

* Secret #7 - Mock Checks And Vouchers - 3 pages

* Secret #8 - How To Use Yellow Stick-On Notes To Personalize Your Promotions And Boost Response - 2 pages

* Secret #9 - The Little Known Direct Marketing Secret That Increases Response From Untested Mailing Lists While Reducing Costs - 8 pages

* Secret #10 - The Simple Way To Get Referrals, Leads and a Boatload of Customers With Template Letters - 1 page

* Secret #11 - The Secret Of Getting Publicity To Position You As An Expert And Generate Hot Qualified Leads - 9 pages

* Secret #12 - The New Customer Welcome Kit - 3 pages

* Secret #13 - Maximizing Your Back End - 2 pages

* Secret #14 - Joint Ventures, Invisible Inks & Black Lights - 9 pages

* Secret #15 - How To Milk Reverse Joint Ventures Like A Cash Cow - 2 pages

* Secret #16 - TEST, TEST, TEST! - 2 pages

* BONUS - The 17 Universal Principles Of Achievement By Napoleon Hill


---
2) Your Question-And-Answer Guide To Making Money At Home With Your Own Specialty Pen Business
Because ID pens are cheap and easy to make, the profit margins are huge and so are the possibilities. That's why I still make and sell them today – with recurring clients, the money can be ongoing and easy.

So in this three-part audio, you'll hear an interview I did with a couple of entrepreneurs who currently own their own cleaning business but are looking into other opportunities as well.

They like the idea of making pens because it's a quick, easy, and profitable business you can do in your spare time. But they have a lot of questions about the best ways to get started, and this 96-minute audio and accompanying 31-page PDF Transcript explains it all.

Part One: How The Business Works:

There are basically four different pens I've promoted – invisible ink, redeye reduction and vanishing ink. I've always run my pen business from home using just the Internet, a telephone, fax machine and the mail, and I can help you do that too.

So in Part One, you'll hear a layout of the entire process – from sending out press releases to preparing your product samples.

You'll also hear…
* The often-overlooked ways to find clients
* What it means to become a licensee of the program – what you get
* The best ways to collect your prospects' contact information
* Key strategies for mailing product samples what envelope works best and what to include with every sample

Part Two: The Ins And Outs (And Ups And Downs)

Every business has its headaches, even the ones where you're the boss, setting your own hours and working from home. And the pen business is no different. It's a cinch to do, but you'll still have to pack, ship and make the pens. So in Part two, you'll hear what to expect in a typical workday.

You'll also hear…

* The almost fool-proof areas for marketing the pens
* Exactly what to expect when your orders come in
* The "insider Secrets" of how I keep all my different pens organized
* What size point-tip works best for each pen, and what color I use for the plug and barrel too

Part Three: Sales And Marketing

I've used many different pen promotions and press releases over the years, and I've made copies of the ones that have worked the best. So in Part Three, you'll learn . . .

* A "can't miss" way for displaying and packaging your pens
* The most important things to know when ordering parts
* The "real life" sales and marketing support you'll receive
* All about importing to Canada

Selling pens from your own home is an easy way to make extra cash, and is probably one of the most attractive smaller business opportunities around.

They're simple to make and to market. But the best part about them is: they're a consumable product, so you'll get reorders without even trying. And because this audio answers just about every question you could possibly have about the business, it's your perfect first step.


---
Here it is a 14-minute recorded conversation and accompanying 9-page transcript with Scott Nickerson. Its called . . .
Incredibly Easy Ways To Make Money In The Pen Business

When it comes to business, there's no right or wrong way to make money. What works for one person may not work for someone else, so it's a good idea to keep an open mind, think creatively and just have fun with it.

This is an interview I did with a new pen licensee named Scott. Scott works in the insurance industry and is looking for ways to merge his pen business with his existing one to make twice the money. He's got a lot of ideas, so we explore some of those, and also a few he hasn't thought of yet.

One area that always seems to work for the pen business is joint venturing. So we go over some of the key strategies and benefits of building those kinds of alliances. But I don't want you to feel like you're limited to my ways alone. In fact, I encourage you to think about your own interests and options, and in this audio you'll hear how to do that.

You'll Also Hear…

* Almost fool-proof ways for marketing to convenience stores, police stations, and insurance agencies
* The number one rule you must follow when selling pens to children
* A special way to fold the flaps of your pen packaging that makes displaying the pens easy and attractive
* Exploding the myth about liability insurance
* All the details about using the pens to generate leads and make money on the back-end

From promotional products to joint ventures, there's a huge market for pens, so you should be able to find an area that interests you, and run with it. And in this audio, we explore many of those possibilities.

---
Here is a detailed 74-minute sales training audio session with Wayne on how to sell id pens by phone. If you're like most people, you're probably worried you won't be able to find prospects or create accounts very easily when you first start out in the pen business. But it's actually a pretty simple process that can be done right from home. All you need is a little training, and that's where this audio comes in.

In it, you'll hear me walk a new licensee named Wayne through all the steps in real time. We look up clients using nothing but a simple Internet search. Then we call contacts, hook prospects, and go over preparing samples all in just a couple of minutes each.

And when Wayne followed up with the prospects we called, he ended up landing two out of four of them – with the other two still being possibilities. And you'll hear exactly how he did it.

You'll Also Hear …
• A word-for-word script for selling pens in under 2 minutes
• The "big lie" about telling the truth – learn how being honest and upfront with prospects may actually work to your advantage
• A simple 3-second trick for packaging your samples that will leave your prospects instantly impressed
• The one best way to keep track of all your accounts in a database
• How to find overlooked markets for selling ID pens
• The almost-automatic way to get called back whenever you leave a message

The best part about this audio is that once you hear how simple it is to sell pens, you'll realize you can easily train someone else to do it for you. This is exactly how I've ran my red eye pen business for years – and I've sold more than 500,000 pens. I think you'll be pretty surprised at how simple it is to land solid accounts right away.


---
Gene Parker called me wanting to know what I felt was the best way for him to market his id pens.
29-minute audio interview and accompanying 14-page transcript,
With ID pens, you'll never just be selling the pens themselves (unless you choose to do that) because this business includes many other streams of income that will naturally pop up as you progress along – such as pen manufacturing, ink fulfillment, and UV light sales. So in this 40-minute audio with a potential pen licensee named Gene, we go over those streams of additional income and how to make the most of them.

Although Gene is very interested in becoming a licensee, he still has a lot of questions before taking the plunge. So you'll hear me go over those questions along with a breakdown of the profit margins for each aspect of the pen business and the best ways to get started as soon as possible.

You'll Also Hear…

• The most certain way to pick a market for selling your pens
• An look into the courses you'll receive in the ID Pen University
• 2 overlooked elements to consider before pricing your pens
• Key strategies for selling both wholesale and retail
• The one best way to monitor appointment setters in real time – and know for sure they're really working
• Secret techniques for tailoring your pens to a specific niche market

The reason this business works so well is because the profit margins are huge – you can literally make the pens for pennies and sell them, at wholesale, for 10 times that amount. So even if you're not interested in any other streams of income, the pens are enough to make it worth your while. But this interview will give you plenty of ideas and options to think about.


---
A 17-page PDF Document That Includes More Than 80 Resources In The Following Categories:

* Copywriters Who Do A Good Job

* Mailing Lists -

* Researching Mailing Lists On The Internet

* Mailing Lists, Card Decks and Good Advice

* Good International Lists

* Letter Shops

* Personalized Mailing

* Order Taking Services

* Fulfillment Houses

* Shipping Services

* Express Mail Look-A-Like Envelopes

* Merchant Account Services

* Checks By Phone and Fax

* Check Guarantee

* Funding/Factoring of Accounts Receivable

* Package Inserts

* Billing Inserts

* Customized Post It Notes

* Realistic Million Dollar Bills

* Million Dollar Business Cards

* Classified Advertising Placement Services

* Graphic Artists

* Cover Designs

* Book Printers

* Printers

* Ink, Pen, Parts, UV Lights Suppliers


---
7) ID Pen Letters and Mailings Swipe File Master
A 63-page PDF Document That Includes:
* 20 ID Pen Sales / Product Information Letters With Titles Like:
1) Order ID Pens before August 3rd and get FREE SHIPPING.....
2) Now You Can Get ID Pens at Cost!
2) 975 ID Pens @ 89 cents each One Time Offer Won't Last Long
4) Order Counterfeit Money Detector Pens before August 30th
5) Cops, Strike Paydirt!
6) FREE UV Lights For Your Station - ID Pens - Only .87 Cents
7) Why Is This "Crazy' California Man Giving Away Pens--FREE?
8) How to Get Your Police ID Pens For Your National Night Out Promotion!

* A Joint Venture Proposal Offering Percentage

* Testimonial Request Letter

* A Customer Service Support Letter

* Set-up Instructions

* 9 Press Releases With Titles Like These

"A Business In A Box: Unique Writing Pens Offer Profit Opportunity"
"FORMULA FOR SPECIALTY PENS A RECIPE FOR FINANCIAL SUCCESS"
"Unique Pen Fights Crime: Donated To Local Community Groups"
"MILLIONS OF DOLLARS WASTED IN EFFORT TO 'SAVE' MONEY"
"Low-Tech Specialty Pens Sell Well in High-Tech Economy"

* 3 Radio Advertisement Scripts

* 1-inch Ads for Distributors, Stores, and Retail:

"Fight crime & make money!"
"Sell 'Branding Pens' & fight crime!"
"'Brand' your valuables with invisible ink!"
* Story Memo:

"A Recipe For Success: Pen Manufacturer Monico Products"

* Company Background

* Company Fact Sheet

* Principal Background

* Product Fact Sheet

* Five (5) 2-Sided Advertisement Post Cards

---
8) ID Pen Artwork and Letter Swipe File
A 32-page PDF Document That Includes:

* 8 Different Newspaper Articles About the ID Pen with Titles Like:

1) Crime Fighting Pens
2) ID Pens Available to Police, Watch Groups
3) Pens Donated To Local Businesses Fight Crime
4) Officers Hooked By Invisible Ink Pens

* 18 Ads for Periodicals -- Includes Artwork and Order Forms

* Front and Back of Postcard Mailing - includes Artwork

* Template for ID Pen Stickers to be used in a variety of mailings
What are you waitning for
Sincerely,



Michael Senoff
---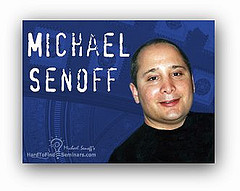 Michael Senoff
Michael Senoff is a marketing strategy expert and business consultant. He is the creator of https://www.hardtofindseminars.com, a website that offers marketing interviews with some of the most respected experts in selling, copywriting, marketing, psychology, and more. Michael knows how to turn businesses around and is known for helping business owners explode their sales and grow their business.
Michael Senoff always had an enthusiasm for entrepreneurism. He ran many different businesses from retail, wholesale, direct mail, and selling. He is a student of marketing, copywriting, advertising, and business. His passion has given him a vast experience in all different areas related to business.
Michael is also an experienced copywriter and often writes ads for himself and his clients. He has an interest in direct response advertising and his site Hard to Find Ads holds a vast collection of direct response ads. You'll see ads from the 1920s-1960s, find ads by respected copywriters, ads from popular magazines, and a collection of headlines you can use for your own ad.
In addition to that, Michael offers consulting for those who want to grow their business, get started on the Internet, or even start a new business from scratch. He also offers a service that helps you create your own audio interview and distribute it all over the net in order to get
Michael sells many different products. If you visit his site you'll find the Joint Venture Magic System, Art Hamel Business Buying System, Information Product Creation System, Claude Hopkins Advertising collection, and many more.