John Caples - Marketing Master

NEW YORK -- Navy officer writes the most famous ad of all time.

John Caples ....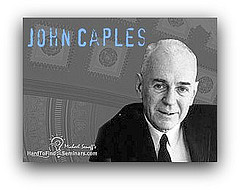 John Caples, the man who wrote the most famous ad of all time
---
John Caples believed in testing of ads, consistency in copywriting practice, and simplicity in advertisements.
As a young copywriter at the Ruthrauff and Ryan mail order advertising agency, Caples wrote what probably is the most famous ad of all time: "They Laughed When I Sat Down At the Piano..."
A few months later, he also wrote another famous ad: "They Grinned When The Waiter Spoke To Me In French".
Both ads have been "plagiarized" and satirized continuously ever since.
One year later Caples moved to BBDO (Batten, Barton, Durstine and Osborn) where he spent the rest of his writing career. In 1941 Caples became a vice president, and in later years he served the company as the creative director.
Caples' career was interrupted for a short time during World War II when he was called back into the Navy. During this time he rose to the rank of commander.
John Caples also wrote 5 books:
Tested Advertising Methods (1932)
Advertising For Immediate Sales (1936)
Advertising Ideas (1938)
Making Ads Pay (1957)
How to Make Your Advertising Make Money (1983)
Note: Except for Tested Advertising Methods, these books are out-of-print.

The world's best copywriters today regard Tested Advertising Methods as one of the best copywriting "How-To" bibles ever written -- detailing proven advertising methods that sell like crazy. Caples himself revised the book 3 times (in 1947, 1961 and 1974).

In Making Ads Pay, Caples reveals a 7-step checklist of proven methods that have been repeated and repeated in successful ads:
Does you ad attract the RIGHT AUDIENCE?
Does your ad HOLD the audience?
Does your copy CREATE DESIRE?
Do you prove it's a BARGAIN?
Do you establish CONFIDENCE?
Do you make it EASY TO ACT?
Do you give prospects a reason to ACT AT ONCE?
In 1973 he was elected into the Copywriters Hall of Fame and four years later into the Advertising Hall of Fame. The John Caples International Awards were founded in his honor by Andi Emerson in 1977.
When Caples died on June 10, 1990, he was 90 years old.
Seven years later, Fred Hahn edited a 5th edition of Caples' great copywriting bible Tested Advertising Methods. Although it does not include much of Caples' wit, although it does not include most of Caples' classic ad examples, it still remains a classic marketing guide.
Since I study all the great marketing and advertising gurus from the past for a living, you can guess I know what works and what doesn't . But there is only one that has made me serious money. Click here to see who.