How An Aspen Colorado Taxi Driver Transformed An Ordinary Taxi Into The Ultimate Magical Mystery Money Making Tour.

The Ultimate Taxi was born on Halloween night, 1983, Jon's vision started modestly with a few flashlights, some dry ice, a Star Trek light on the dash, a good sound system, and some strategically-placed tin foil.

The rest is history. Today Jon Barnes from The Ultimate Taxi bills his cab as the only music studio, nightclub, planetarium, toy store, and Internet taxi on the planet!

It's a rock & roll concert, roller coaster ride, magic show, movie ride, laser light show, and photo shoot.

From the front seat of his 1978 Checker Cab, Barnes orchestrates a sophisticated in-taxi light show, complete with 9 lasers, 14 miniature stage lights, a revolving disco ball, and a $2,000 haze machine.

The ride also includes toys, rainbow glasses, and a photo page on his world-famous web site www.ultimatetaxi.com

Famous celebrities like Ringo Starr, George Lucas, Jimmy Buffet, Clint Eastwood, Bob Dole, Michael Eisner, Michael Douglas, and Kevin Costner are among the many notables who have enjoyed this magical, mystery tour.

In this interview you are going to learn and travel along with Jon as he describes his journey from novice taxi driver in Aspen, providing an entertaining ride, to purveyor of an other worldly, high-tech experience of a lifetime.

You'll hear how Jon successfully leverages free media attention and his cutting-edge technology to brand an unforgettable experience in the mind of his customers.

You'll also learn how this not so ordinary taxi diver markets his business using these universal business building lessons…..These are lessons that anyone can use for their own business. For instance how to…

• Develop relationships to build repeat business - Jon made friends with other cabbies, the dispatcher, and cops by helping them meet their needs; he treated customers like friends, giving free rides, leaving the meter off, and knowing where they lived, and where they wanted to go.

• Focus on the unique - instead of just a ride, Jon sells fun and entertainment, always trying to boost his smileage (smiles per gallon). His guarantee: either you have fun or there's no charge.

• Leverage your core business into multiple revenue streams - the Ultimate Taxi is central to the Trunk Boutique memorabilia, the web site, and media fees.

• And much, much more!

Take a virtual ride with Jon Barnes and discover the secrets of his magic touch. And don't forget to visit www.ultimatetaxi.com
The next time you're in Aspen, tell him Michael Senoff sent you.
Print Photo Below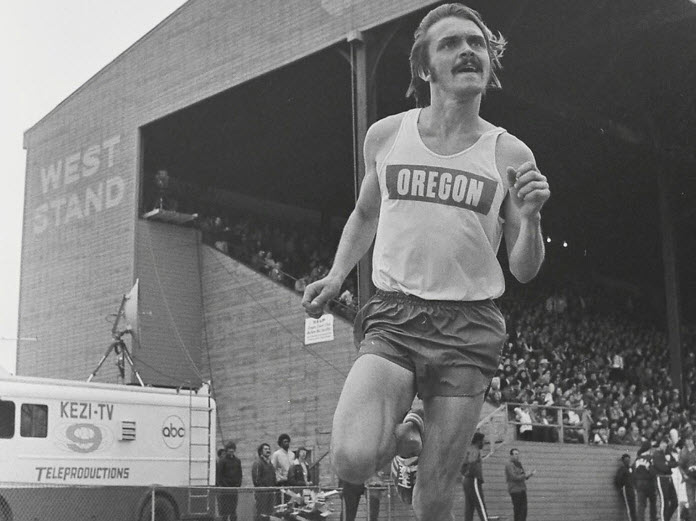 Steve "Pre" Prefontaine

He was the greatest runner in Oregon history.

He was an American middle and long-distance runner.

He inspired the "running boom" in the 1970s along with Frank Shorter and Bill Rodgers.

Here are a few of his famous quotes.

* A lot of people run a race to see who is fastest. I run to see who has the most guts, who can punish himself into exhausting pace, and then at the end, punish himself even more.

* I'm going to work so that it's a pure guts race at the end, and if it is, I am the only one who can win it.

* Somebody may beat me, but they are going to have to bleed to do it.

* Something inside of me just said 'Hey, wait a minute, I want to beat him,' and I just took off.

* To give anything less than your best is to sacrifice the gift.

* What I want is to be number one.

* A lot of people run a race to see who is fastest. I run to see who has the most guts, who can punish himself into exhausting pace, and then at the end, punish himself even more."

The next time you feel down think about Pre.