Contact Us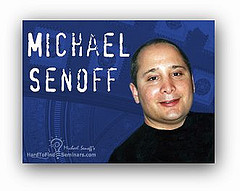 This is Michael, how can I help you?
Voice: (858) 274-7851 or Text or call my cell 858-692-9461
Toll Free In The US Only Call (800) 982-6487
Fax: (858) 274-2579

Hi, Michael Senoff here. Please submit your question or inquiry below. I usually return e-mail same hour.
IMPORTANT: Please note that with e-mail today, there is always the good chance that the e-mail you send to me in this message may go to my spam folder and I may miss it. ( This happens all the time )
So, if this e-mail is important to you, please phone me as well at 858-274-7851. If you get my voice mail service, leave me all the specific: name, number message of what was in the e-mail This way I can be sure that I get your message and can respond appropriately. I am never too busy to take your call.

How are We Doing?

We rely on your feedback to help us continually develop and improve this site. If you have any comments or suggestions, please let us know. We want to hear what we've done right and what else we need to do to better serve you.

Back to home page click here